STANDARD LTL
In addition to rolled goods, we also transport palletized flooring products such as LVT, LVP, and hardwood flooring.
PREMIUM LTL
Leverage our Day Definite Guarantee and Expedited Services for your critical shipments.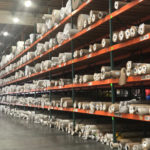 WAREHOUSING
We have over 1 million square feet of warehouse space strategically distributed across the United States.
XTMS SOLUTIONS
Experience the difference with the combination of Asset Based Services and State-of-the-Art Transportation.